Which Form Of Magnesium
Should YOU Take?
Where should I send your FREE Magnesium Types Cheat Sheet?
Quick & easy overview of 11 different types of magnesium
Stop wasting money on the wrong form of magnesium and start taking the right type.
Discover which form of magnesium will meet your unique needs.
Please tell me which is best!

Just Tell Me Which Magnesium To Take!
Too busy to download the cheat sheet... print it out... drive to your local health store...and find one that works?
I got you!
Magnesium Creams are INSANELY effective , SAFE and work for just about ANYONE.
Plus, they won't give you side effects and they work FASTER than taking a piill or powder.
And this cream has the HIGHEST concentration of magnesium chloride that you will find in any cream.
Yeah...it's THAT good.
Exclusive Savings for those who download the cheat sheet!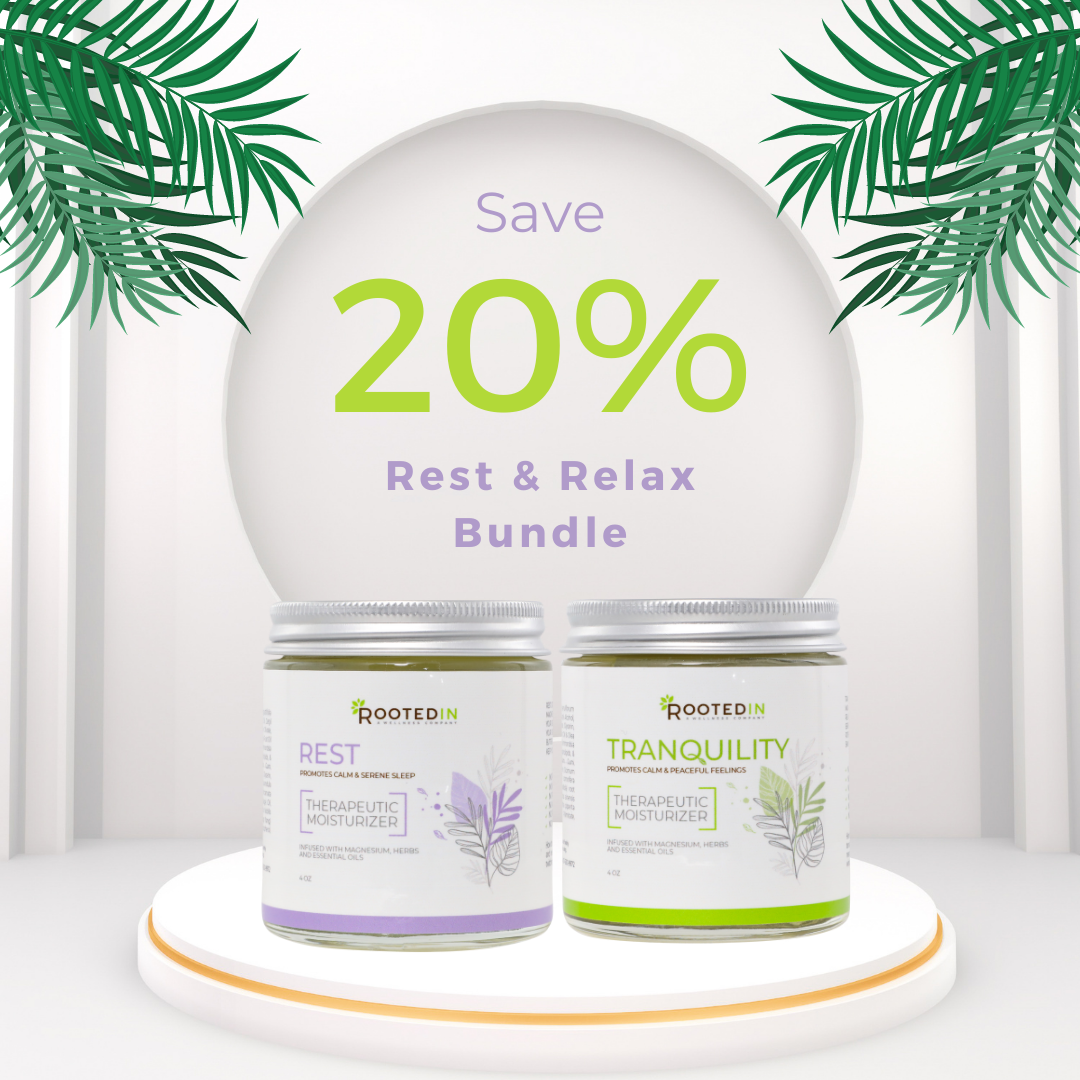 Our revolutionary moisturizers can help:
- Replenish lost magnesium to your body
- Promote serene sleep
- Ease twitchy legs
- Calm racing thoughts
- Support muscle recovery
- And deliver intense nourishment to the skin
And they're filled with only non-toxic, 100% naturally derived, plant based ingredients.
Ships within 24 hours Mon-Fri.
30 - Day Happiness Guarantee
Everything you need to support your sleep and emotional health in one convenient and affordable package.
This bundle includes our two best selling products!
This set contains:
Rest Cream for sleep
Tranquility Cream for stress
Magnesium cream can be used just like your daily body moisturizer.
Most people use it on their arms, legs, chest and stomach.
Avoid use on freshly shaven skin however.
If you're dealing with an isolated issue, such as foot & leg cramps, it's best to apply it right onto your area of concern for fast relief.
Happiness guarantee
remove
add
If your purchase doesn't live up to your expectations, we'll make it right. No explaining, no appeal to manager, no waiting period. Just drop us a line and we'll take care of it.
Items must be returned within 30 days of purchase for a refund or an exchange of the purchase price (shipping charges not included).
Just send me an email at natalie@berootedin.com with your order number and I can provide you with an exchange or a refund, no questions asked!
Our natural and nourishing formula is made with gentle yet powerful ingredients to provide magnesium directly to your cells. All ingredients are superbly safe and ranked 1-4 on the EWG Skin Deep Website for Safety.
Frequently Asked Questions

Is magnesium effective when used on the skin?
remove
add
Your skin is your largest organ and it absorbs just about everything you put onto it.
Magnesium, in particular, absorbs quickly and effectively right through your skin.
It's an ideal way to use magnesium because it bypasses the digestive system, quickly making its way into the bloodstream, elevating low or depleted levels of magnesium much more rapidly than pills or supplements.
Can I use this on my kids? During pregnancy? While nursing?
remove
add
Yes, children need magnesium too! Magnesium cream is an excellent way to get more magnesium into your kiddos without the fuss of messy powders or hard to swallow pills.
It's also safe to use during pregnancy and while nursing, when our magnesium demands increase rapidly.
How often can I use magnesium cream?
remove
add
Magnesium cream is safe for everyday use. There's no need to worry about getting too much as your skin does an incredible job of managing your magnesium intake.
We recommend daily use or as often as you find necessary.