Skip to product information
Foot Soak Basin
The hassle-free solution to effortlessly boost your magnesium levels and pamper your body, one step at a time.
Lightweight, collapsible design makes it easy to use
No mess, leakproof, waterproof and durable
Folds up and comes with drawstring bag for easy storage
Enjoy a relaxing magnesium foot soak anytime! Perfect for use with our Magnesium Soaking Salts.
Regular price

$14.99
Unit price

per
Description

Our collapsible and waterproof foot baths are designed with convenience in mind.

Experience the ease of daily magnesium foot soaks, unlocking the potential to nourish every cell in your body.

Simply unfold, fill with water, and immerse your feet in a blissful magnesium chloride soak, promoting relaxation and well-being.

Say goodbye to the struggles of traditional foot baths. Our portable solution allows you to enjoy the benefits of magnesium therapy wherever life takes you.

After use, fold it up and stow it away effortlessly with the included drawstring bag – perfect for your on-the-go lifestyle.
How to Use

Add 1/4 cup of Magnesium Soaking Salts to warm water. Soak for 20 minutes. Repeat daily to help boost magnesium levels quickly.
Packaging

Foot baths are 13.5 inches wide by 8.5 inches tall and come with a drawstring bag for easy storage.
Happiness Guarantee

If your purchase doesn't live up to your expectations, we'll make it right.  No explaining, no appeal to manager, no waiting period. Just drop us a line and we'll take care of it.

Items must be returned within 30 days of purchase for a refund or an exchange of the purchase price (shipping charges not included).

Just send me an email at natalie@berootedin.com with your order number and I can provide you with an exchange or a refund, no questions asked!
Foot Soak Basin
Our Secret Weapon Against Magnesium Deficiency
Magnesium, the superstar mineral that's involved in over 700 biochemical reactions in the body.
As you soak daily, magnesium penetrates deep into your cells, providing a much-needed dose of relief.
Our foot baths make it easy to soak in magnesium daily. It's the no mess, easy solution for daily magnesium foot soaks.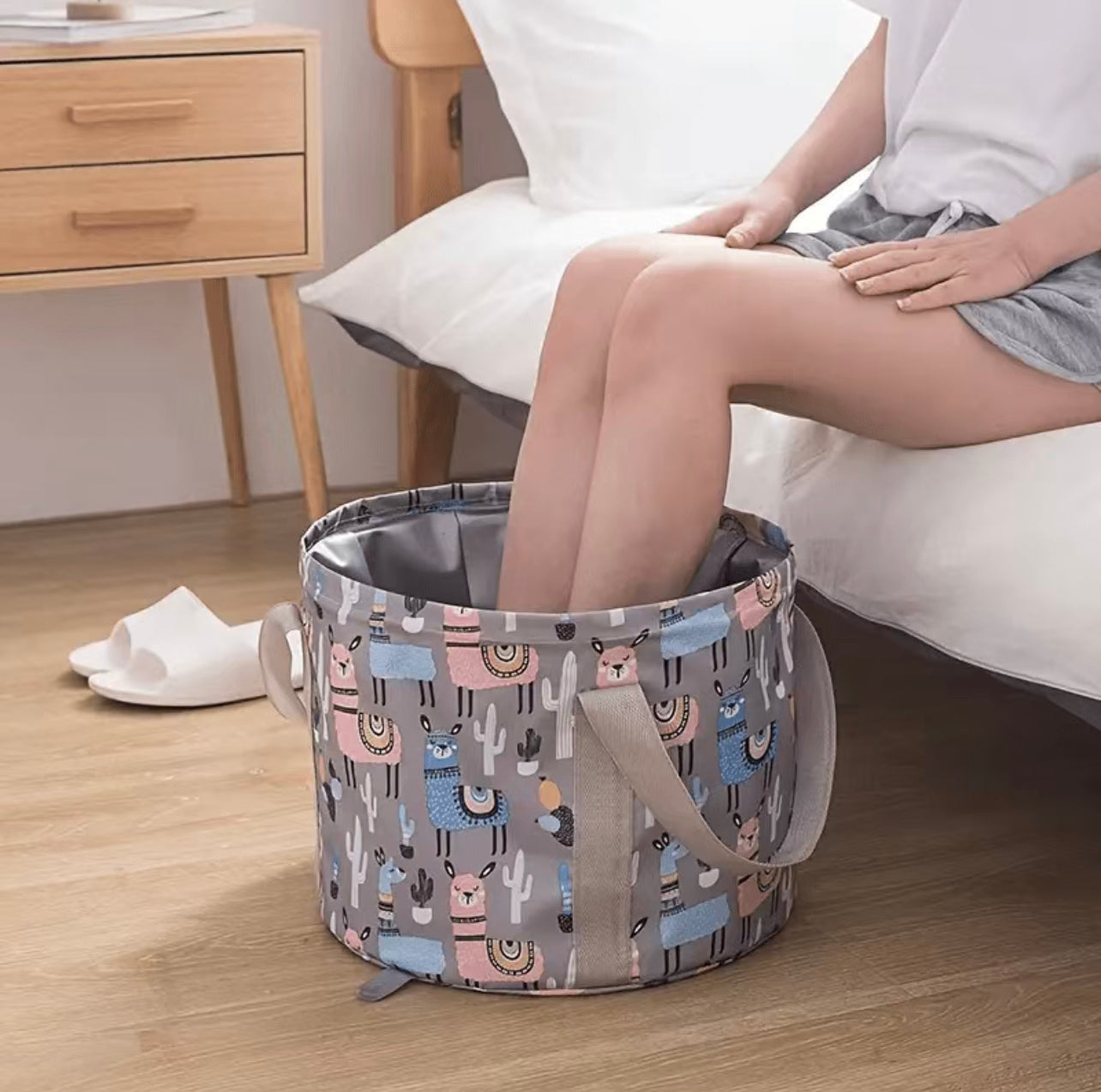 Foot Soaks, Simplified and Portable
Ditch the bulky plastic tub – our Portable Magnesium Foot Bath is lightweight, collapsible, and travel-ready.
With convenient handles for easy pouring and drying, it's your compact solution for daily relaxation, saving space at home or fitting snugly into your suitcase on the go.
Why Use Magnesium On Your Skin?
It's a SUPER effective and natural way to boost your magnesium levels, leading to less tension and more pain-free days.
It works within minutes and doesn't cause digestive upset, so you're able to quickly reap all the wonderful benefits.
No more waiting for a pill to "kick in" in order to feel better.  Just massage it in and wait for the magic to happen.
FAQ
Got questions? We've got answers!
When will my order ship?

Orders are shipped Mon-Friday excluding holidays.

If ordered before 1 pm EST, your order will go out the same day.

After 1 pm, and it'll ship the following day.

Orders are shipped from our fulfillment center in Central Florida via USPS.  

As soon as your order ships, you'll receive a tracking number via email. 

If you don't see it, please check your spam folder as sometimes our emails can accidentally wind up there. 
Are your ingredients healthy?

Absolutely! We believe that what you put on your body is just as important as what you put into it.  

That's why we only use healthy, non-toxic ingredients that are good for you and the planet.  

No parabens, artificial fragrances, yucky chemicals, toxic preservatives, or junk fillers.

We even check all our ingredients against the Environmental Working Group's Skin Deep database to verify we're only using ingredients that are safe (ranked 1-4 for safety).
Are your ingredients vegan?

We're lifelong animal lovers here so we've chosen to only use vegan ingredients in our products. 
Is magnesium effective when used on the skin?

Your skin is your largest organ and it absorbs just about everything you put onto it.

Magnesium, in particular, absorbs quickly and effectively right through your skin.

It's an ideal way to use magnesium because it bypasses the digestive system, quickly making its way into the bloodstream, elevating low or depleted levels of magnesium much more rapidly than pills or supplements.
Can I use this on my kids? During pregnancy? While nursing?

Yes, children need magnesium too! Magnesium cream is an excellent way to get more magnesium into your kiddos without the fuss of messy powders or hard to swallow pills.

It's also safe to use during pregnancy and while nursing, when our magnesium demands increase rapidly.
How often can I use magnesium cream?

Magnesium cream is safe for everyday use. There's no need to worry about getting too much as your skin does an incredible job of managing your magnesium intake.

We recommend daily use or as often as you find necessary.